alicia and will | melbourne
January 23, 2016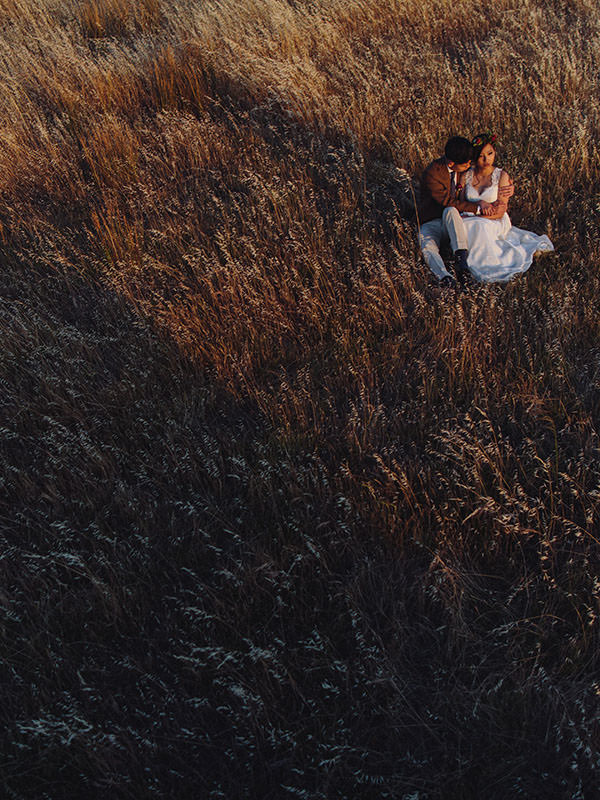 Even though Alicia & Will looked up a few venues online, they knew almost straight away that nothing could compare to having a wedding at their friend Dave's farm. Will had completed a 3 week placement at the farm during his Vet school days and always raved about how beautiful the property was. It was the perfect canvas to create the beautiful, yet relaxed vibe that Alicia and Will were after. The farm was already such an amazing place, and Alicia and Will managed to perfectly compliment the stunning scenery with their choice in decor. Believe it or not, some of their clever ideas were dreamt up whilst scribbling on a paper table cloth in a restaurant in Malaysia!
I was lucky enough to get a little extra time to soak up the atmosphere by spending the night before the wedding camped out with the boys on the property. One of the groomsmen, Terence, cooked up a delicious dinner for all of us, including Dave and his wife, and the night was full of eating, laughing, bonding, and watching the stars. It was a very special way to kick off a wedding filled with warm and generous people, stunning light, and overflowing love. For me, by far, the biggest highlight was the ceremony. It was one of the strongest and most loving ceremonies I've ever been to. These two seriously love each other so much and their passion for both each other and for God is powerfully beautiful.
Cinematographer: Adrianyap.Co, www.adrianyap.co
Event Plaanner/Stylist: The Details Co., www.thedetails.co
Florist: Bunched Together, https://www.facebook.com/bunchedtogether/
Stationery: Invites- Liquan Liew
Ceremony and Reception Venue: Kulaba West Farm
Catering: Sarah Masny
Cake and Desserts: Fig & Salt
Wedding favours: Printed napkins by "Peep Designs", www.peepdesigns.com; Customised matchboxes by "The Kelantan Matchbox Factory" Drawing on matchbox by Iris Shum, Printed napkins by "Peep Designs", www.peepdesigns.com; everything else by "The Make Lab",www.themakelab.com
Furniture Hire: Dann Event Hire, www.danneventhire.com.au
Signage: Designed by The Details Co., made by "The Make Lab"
Celebrant: Pastor Rudy Nikerrud
Rings: Pieces of Eight, Designed by Kim Victoria
Bridal's Gown: Custom Made by "Yes I Do" (Malaysia)
Flower Crown: Bunched Together
Robe: Cotton On Body
Shoes: Vincci (Malaysia)
Accessories: Earrings from Lovisa
Hair: Bena Hu
Make Up: Gloria Wong
Bridesmaid Dresses: Asos, Zalora (Malaysia), Forever 21
Bridesmaid gifts: Muji
Suit: P.Johnson Tailors
Shirt: P.Johnson Tailors
Pants: P.Johnson Tailors
Tie: P.Johnson Tailors
Shoes: Aquila
Socks: Uniqlo
Watch: Daniel Wellington
Barber: Shaun Ash
Groomsmen outfit: Cardigan and socks from Uniqlo, Pants from Asos.
Groomsmen gifts: Aussie Disposals