kat and michael | tasmania
February 16, 2016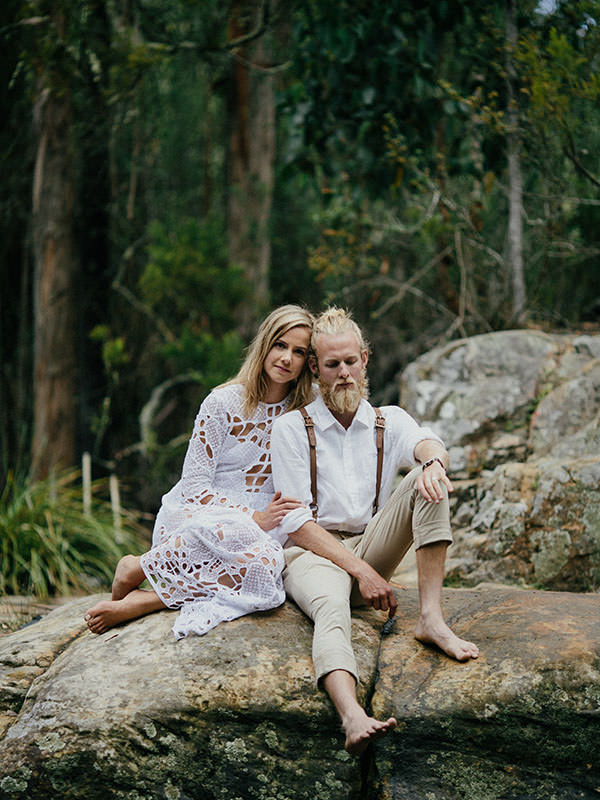 Relaxed, Colourful, Homemade, Natural, Simple, Tasmanian. That pretty much describes this wedding in a nutshell!
Kat & Michael decided to get ready in 2 different rooms but in the same house. This private time before the ceremony was so special. Seeing each other for the first time, before anyone saw them. They got the chance to see the look and the emotion on each others face. To them it was so calming and meant they could spend as much time with their guests as possible after the ceremony. These guys really love the natural beauty of the area in which they chose to tie the knot. Especially the waterhole at the ceremony, walking up there after the ceremony was so dreamy.
They pretty much did EVERYTHING themselves. They spent months and months creating pieces that would not only look perfect but meant something to them. Such as the arbour, dried rose confetti, tables, signs, kokodema balls, homebrew (which was AMAZING) and their wedding cake & grazing table. (Yeah, these two are good)
They just really were about having it as organic as possible, and just leaving the natural beauty of the surrounds to speak for itself. A lot of their guests travelled interstate to Tassie for the first time so it was a really special reunion as well as their farewell to Tasmania.
Enjoy the MEGA post 🙂
Bride & Groom Prep House – Crabtree House
Ceremony Location – Longley Recreational Reserve
Reception – Longley International Hotel
Brides Dress – Alice McCall
Brides Shoes – Ko Fashion
Brides Robe – Piyama
Jewellery – Sargisons Jeweller for Wedding & Engagement Bands
Grooms Suit – Country Road
Grooms Suspenders – Project TransAction
Chair & Glassware Hire – That Old Chestnut
Ice – Mountain Dew
Makeup – Caitlin Fife
Hair – Jakadjari
Stylist – Bride & Groom
Florist – Flowers from Lisa Kingston
Edible Flowers – Provenance Growers
Cake – Made by the Bride
Catering – Mr Burger, Grazing table (Bride & Groom) Homebrew (Groom)
Stationery – Designed by the Bride
Celebrant – Sally Port
Transport – Barry's Bus Charter