sophie and mitch | backyard wedding
June 20, 2016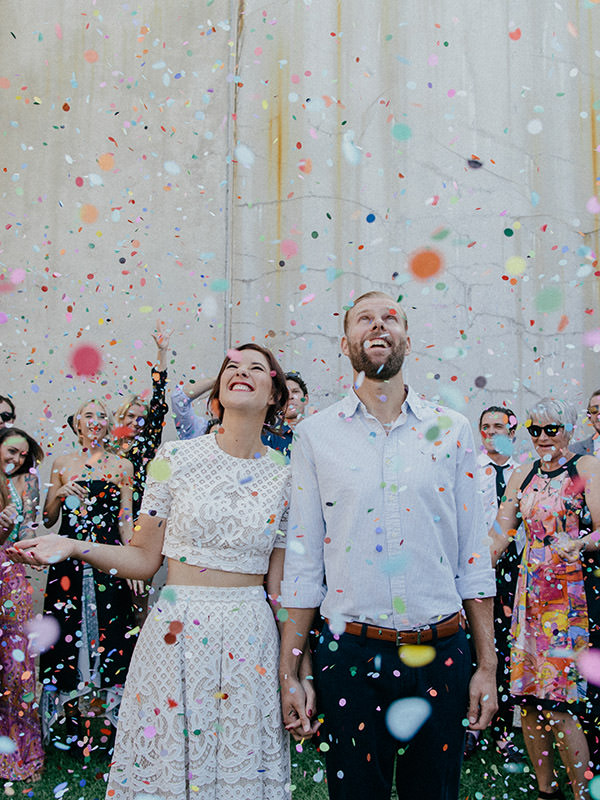 Its all kind of funny!!! Soph actually cancelled her original wedding because she was so stressed out about the whole thing, and then ended up planning the whole thing in under two months and having it in her backyard. I think after buying their first home as a couple,they had always wanted to have a backyard wedding, so it seemed meant to be.
Soph went dress shopping and hated every dress she saw / tried – nothing seemed to fit her. She was ready to give up when Mitch found this Lover two-piece on their website. She tried it on and fell in love. BOOM!
Soph and Mitch just wanted something totally chilled out with as little stress / fuss as possible, away from any traditional wedding. They actually got ready together and then we walked around Carrington before the ceremony shooting a few portraits which was cool. It took the stress out of the fact they were about to get married and just really enjoyed hanging out before it all went down.
We got back to the house the celebrant met us at the front door and was like "Let's get you married" So we walked through the house and out the back door and it happened. They didn't have any formalities – just one speech from their best mate, Jackson. They wrote their own vows together and made fun of each other in a playful way. Soph walked down the aisle with Mitch to "Don't Cry" by the Gooch Palms (His sister's band).
A little later in the night Mitch and Soph went for dinner at a beautiful restaurant just the two of them. She said It was so nice to sit down and speak to each other properly for the first time as husband as wife and just reflect upon the day.
What a couple!!!!
Florist: Blooms on Darby – www.cookshillflowerdelivery.com.au & Mother of the Bride.
Ceremony venue: Bride and Groom's home in Carrington, NSW.
Reception venue: Bride and Groom's home in Carrington, NSW.
Catering: Bride (Sophie Friend) with Jasmina Krso (Friend/Family) & Beynon Owen (Friend/Family).
Cake: Beynon Owen (Friend/Family)
Shoes: Wittner – Dane heel in Cherry suede – http://www.wittner.com.au
Hair: Stacey at Hardy's on Hunter – www.hardysonhunter.com
Makeup: Keira Naylor (Friend/Family)
Grooms Shirt: Ralph Lauren
Grooms Pants: Ralph Lauren
Grooms Shoes: Studio W
Grooms Socks: Ralph Lauren
Decorative elements : Tassel garlands made by Mother of the Bride.
Plates, cups, napkins and straws: Ruby Rabbit Party ware – www.rubyrabbit.com.au.
Platters – all vintage (Friends/Family)
Signs – KMART,
Jars for flowers – Brides own a collection of jam jars, etc.
Confetti and confetti bags – Shindigs (www.shindigs.com.au)
Chairs – Vintage (brides own), Milk crates (brides own), Rugs (Brides own), Drink dispensers (KMART), Trestle tables – Beynon Owen (Friend/Family)
Festoon lighting – Nicholas Damon (Friend/Family) – www.lightsforlover.com.au . Sound system Bride and Groom's own.
Signage: Bride written onto KMART signs.
Celebrant: Kerryn Tippet (Sassy Celebrant) – www.wedbykez.com
Rings: Michael & Jess Barwik (Friend/Family) Owners of Heirloom Jewellers – www.heirloomjewellers.com.au